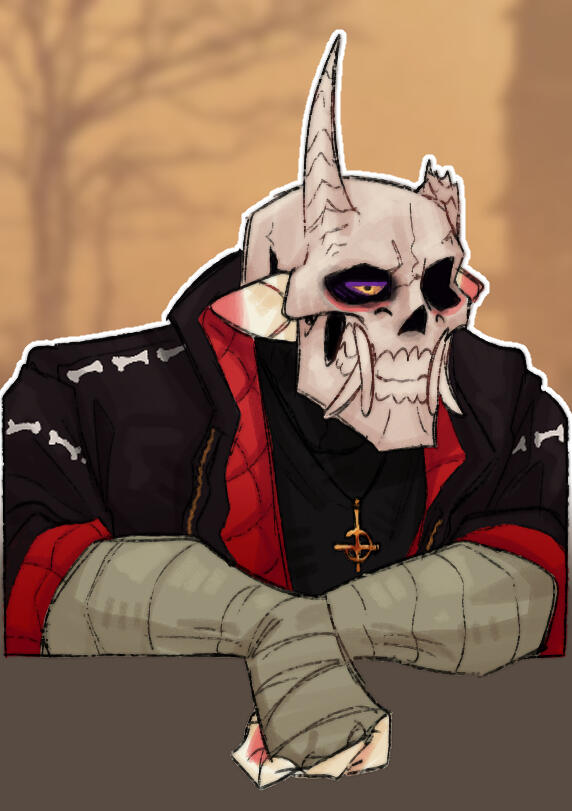 About
Oxford | 23 | They/Them
Howdy, I'm Ox! I'm a freelance artist with aspirations of graphic design. Currently, my primary focus is completing my Mechanical Engineering degree, but I pursue art as a hobby and a part time job.I have experince working with streamers and youtubers, as well as being a cover artist for a publishing company.
---
standard commissions
CLOSED
---
---
specialty commissions
OPEN
---
⚔Terms Of Service⚔
As a digital artist, I take pride in my work and strive to provide the best possible experience for my clients, and I'm here to help you bring your unique vision to life. To ensure that our collaboration runs smoothly and that we're both happy with the final result, I have a few terms of service that my clients must abide by. These terms are designed to protect both of our interests and ensure that we have a clear understanding of what to expect throughout the commissioning process. If you have any questions or concerns, don't hesitate to reach out to me.

The Terms of Service must be read, understood, and accepted with all the below terms before entering into an agreement with us. To commission me, you agree to the following information.
WILL DRAW
✦ Original Characters or fanart
✦ Humans/Humanoids, Furries, Animals, Monsters and fantasy creatures, and Mecha and robots.
✦ Gorey and graphic themes, Body horror, and Horror themes
✦ Some NSFW and suggestive content, but certain restrictions apply
WILL NOT DRAW
✦ Overly complex designs, I will decide if it is too complicated
✦ NSFW with IRL People, Minors, or characters from content with minors being the intended audience
✦ Political or hateful art
1. GENERAL INFORMATION
1.1. If you would like to reach out to me with a commission idea or any questions, You can either contact me through my email, [email protected], or direct message on the platform you found me on. Email is the most efficient method for me to see it quickly.1.2. In order to purchase a commission from me, regardless of context, you Must be over 18.1.3. Each additional character will cost 60% of the base price.1.4. All payments will be taken once I start on your commission. Payment is taken through PayPal invoices, but alternates can be discussed.1.5. You must provide detailed references or descriptions of what you want. The more detailed description, the more efficiently I can work and create what you want.1.6. Extra detailed designs, excessive gore/graphic content, detailed backgrounds, & deadlines may be subject to an upcharge.1.7. I reserve all rights to the commissioned artwork, including the right to make prints and merchandise and add to my portfolio. You may not profit from my artwork unless the rights have been discussed. Information on commercial specific use below.1.8. I reserve the right to deny any commission for any reason I see fit.
2. COMMERCIAL USE
2.1. This information only applies if the intent of your commission is for commercial use. This includes:
• Any art created with the intent of making merchandise.
• Any art used to advertise a product.
• Any of the following intents: book, graphic novel, or comic covers; comics, coloring books, or illustrations in books or novels; video or live stream assets, thumbnails, or covers.2.2. Full rights of the artwork will be transferred to you for a fee of 50% of the final price of the commission, upon which I will not use the work unless specified by you. However, I reserve the right to add the artwork to my portfolio.2.3. Terms of use will be tailored to you during our conversation about the piece, including if the work will be a one-time purchase or if royalties will be applied.2.4. Special rates can be applied to continuous, long-term work. If you are looking for a long-term agreement, you must provide a minimum guaranteed timeline so we can determine the kind of rates that I can issue.
3. Commission process
3.1. Send me an email or message with a commission request containing all of the information I would need in order to complete your commission information, including references, a description of the scene or character action, and the email for your invoice. After finding common ground, getting the first invoice & giving an approximate completion date, I'll start working on your commission.3.2. Thumbnailing stage
I'll sketch some rough ideas, then show them to you so you can choose and/or tweak one to your liking. You can expect 3 thumbnails minimum with the option to ask for up to 2 more if they are not to your liking initially.3.3. Sketch refining stage
I'll refine the sketch, meaning working on details in the background and character(s). This is what your commission will look like before I render it further. Up to this point, you may also ask for a full or partial refund if the situation has changed. After the sketch phase, I will not issue any refunds.3.4. Rendering stage
The most time-consuming part, I might not be able to update you as much as before because I'll need to focus on the piece.
However, feel free to DM me to see the advancement.3.5. Final effects
I'll be adding effects and filters as needed. You'll receive two files, one with it and one without.3.6. Sending files
Finally, you will receive a signed digital file by email or dropbox by your request to not compress the quality.
Once the commission is finished, no more changes or edits will be made.
4. Customer use
4.1 The commissioner reserves the right to:
✦ Claiming rights to the character, but not the drawing itself.
✦ Sharing/Reposting the artwork any place they see fit, with proper credit.
✦ Printing the artwork for personal use only.4.2. The following is considered copyright infringement:
✦ Reproducing/using copyrighted artwork commercially without my knowledge.
✦ Claiming the artwork as your own.
✦ Removing my signature from the artwork.
✦ Changing the artwork without my consent.